Imagine making an animated movie or VH1-style music video on your birthday!
Our high-energy, interactive instructors are industry professionals who know what they're doing and love what they do!
Choose your party…
Rock Star Birthday Party: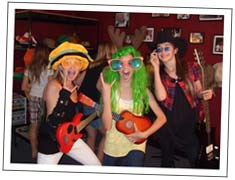 Become a Rock Star and shoot a music video for your next birthday party! At MBK Studios, young filmmakers can access a giant blue-screen stage, pumpin' sound system, and three party rooms for an amazing studio atmosphere.
Just pick your favorite song, grab a costume, and bring your attitude cause your ready for the camera
Clay Animation Birthday Party:
Have you ever wanted to make your own movie like "Chicken Run" or "Wallace & Gromit"? In this exciting party, party-goers will design, create and animate their own clay characters. Everyone gets to operate the digital cameras and make their characters come to life. After the filming is complete, they will become the voices for the characters and supply the voice-over. All movies will be professionally edited and every child at the party will receive a copy on DVD.
Stop-Motion Madness:
What if you could make a movie where an ordinary object suddenly came to life? Using the magic of stop-motion animation ("Corps Bride", "Wallace & Grommit"), partygoers can make movies starring just about anything… Toys, clothes, pictures… Even leftover pizza can come to life in this super creative birthday party that pushes the limits of imagination. All movies will be professionally edited and a DVD copy will be provided to all who attend the party.

Here's what you need to bring:

One object or toy:
This object can be anything that you think could be a character in a movie. Imagine a toy car where the headlights are the eyes and the grill becomes the mouth? Or a soda can could come to life with a pair of eyes and a mouth cut out from a magazine. Even a pair of sunglasses or old socks would work. It's up to you!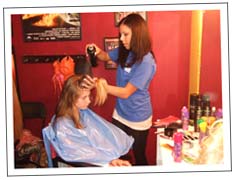 Guidelines:
This object should be about 4-6 inches tall or wide.
The best objects have moving parts.
It needs to be able to stand up.
(Balls or round objects are not very good for animation)
Sample objects:
Bionicles
Mego toys
Toy cars
Action figures, (As long as they stand up)
Beanie babies
Shoes
Hats
Party at our location or yours
Book your next party at MBK Studios and we'll take care of all the details, including a red carpet entrance, Hollywood style invitations, and pizza for all guests at your shoot.
Or
Pick your own location and we'll pack our blue-screen, Lights, cameras, and come to you. Either way, all party-goers will receive a professionally edited copy of the day's shoot on DVD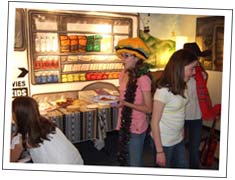 *What's included: MBK Studios
Movies By Kids invitations
2 instructors, (1 party coordinator and 1 professional videographer)
Giant blue-screen stage
Studio lighting
Pumpin' sound system
37" Monitor to view the party as it's happening.
Costume/ prop room with mirrors
Separate room for catering food.
Pizza & fruit punch
Tables, Plates, cups, napkins
Party favors
DVD's for everyone at the party
*What's included: On location
1 professional videographer, (Up to 15 kids)
Large Blue-screen set up
On-location Lighting
DVD's for everyone at the party
There are many variables to a Movies By Kids birthday party...

Party times are:
Monday-Friday – 3:30-5:30 & 6:00-8:00
Saturday-Sunday – 10:30-12:30, 1:00-3:00, 3:30-5:30, & 6:00-8:00
Adaptable to specific ages
Inquire about group rates
Custom or theme parties are available